"NYC" is the third episode of season one of the STV drama AmericA A Nation Divded.
NYC
AmericA A Nation Divided episode
Season 1 - Episode 3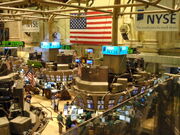 Guest cast
TBA
Directed by
Matt Sheckells
Written by
Matt Sheckells
Original airdate
September 2010
Motto

Episode saying

Money is worth dieing for

Episode chronology
←Previous
Next →

The Sabotage
'Plot synopsis'Edit
In Episode 3, NYC is discovered to be the next target on the radar for the terrorists. They plan to bomb the NYSE. The blast blows up as the bell closes at 4pm killing over 900 people. FBI must move their New York City Headquarters. City is sent into chaos.
They experience this
Uprising against the Police
Increased Violence
Rioting
Looting
Widespread poweroutages